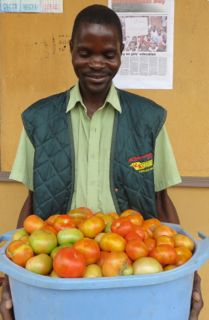 Today, 16 October Malawi joins the international community in commemorating World Food Day. This year's theme is "Sustainable Food Systems for Food Security and Nutrition".
According to the joint press statement by World Food Programme (WFP), Food Agriculture Organisations (FAO) and the Malawi government, this theme emphasizes the importance of lasting food systems in producing nutritious diets for all people today, while also protecting the capacity of future generations to feed themselves.
"This year's theme has been reached considering the simple fact that "Healthy People Depend on Healthy Food Systems," reads part of the statement.
The press release also quotes WFP Executive Director, Ertharin Cousin who says, "Undernourished girls and boys face barriers in health, in school performance and later, in the working place, which limit their human potential and their capacity to contribute to the societies in which they live."
Cousin continues to say prioritizing nutrition today is an investment in "our collective future".
"The investment must involve food agriculture, health and education systems," says she.
Andiamo Youth Cooperative has already invested in Agriculture through "Get Up Stand Project", micro credit finance that helps farmers get good seeds and fertilisers to get good yields.
In Malawi, levels of malnutrition remain high with nearly half of all children under the age of five showing signs of chronic under nutrition with an estimated 47 per cent being stunted (too short to their age), 13 per cent underweight (too thin for their age), and 4 per cent wasted (too thin for their height).
By Our Reporter