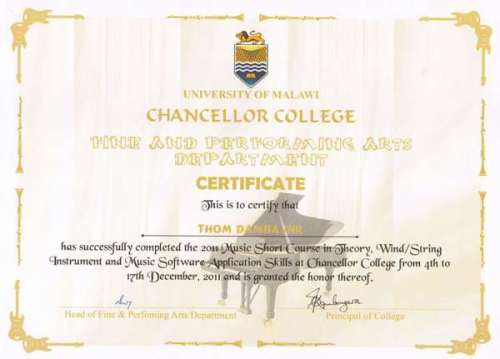 Some Christmas gifts will come and go but this one will not. The Department of Performing Arts of the Chancellor College, a constituent college of the University of Malawi has awarded a certificate to Thom Damba Junior, a Principal of Andiamo music school, for completing successfully a short music course from 4 – 17 December 2011.
The training covered Music Theory, Introduction to Music Instruments, Posture and Handling of Instruments, Fingering for Brass and Wood Wind Instruments, Compass of the Instruments, Tonal Registers of Instruments, Over Blowing and Harmonic series of wind instruments and technical fingering, Transposition of wind Instruments, Scales (major and minor), Formation of Chords and Chords Progressions.
The training was made possible by the cooperation that exists between Andiamo Youth Cooperative Trust (AYCT) and CMB/LAMA. There are plans that in future students from Andiamo Music School should pursue further music studies with the University of Malawi.